Our Problems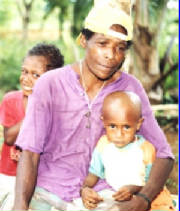 Papua[1], also known as Irian Jaya, is the most underdeveloped, yet largest province of Indonesia. The province is 12 times as big as the Netherlands (a little bit bigger than Germany) and very rich in natural resources, such as gas, oil, copper, gold and silver, to name just a few. In addition, it is one of the most bio-diverse regions on earth. The indigenous people are Papuans, who unfortunately have almost become a minority in their own country. This former Dutch colony[2] now has a population of approximately 2 million people from different ethnic and tribal descent.
Since Papua became a province of Indonesia in May 1963 and was ruled by a dictatorial system, it was impossible to establish a civil society role. Development policies were simply imposed by the government using a top-down system. While Papua is one of the "top 6" (Aceh, Riau, Jakarta, East Kalimantan and West Java) richest provinces in Indonesia[3], the majority of the population (2 million) lives below the poverty line. The main cause for this overwhelming problem is the lack of good governance. The whole system in Indonesia is simply directed at strengthening the interests of a small group of people with political and economic power. Hence, the position of communities remains economically and socially weak, they are continuously oppressed and marginalized.
Papua is a land that has been severely distressed by repressive systems for decades. Before the Indonesian took control in 1963 there were two governments occupying Papua: the Dutch and the Japanese. Those systems have created tremendous trauma, inferiority complex, scepticism and apathy among indigenous Papuans. Since indigenous communities are still suffering from marginalisation, special attention is needed to these groups. Women and children have suffered most. It is necessary to establish POs to generate self-support. NGOs can be the facilitators but we need strong NGOs with a high standard of capacity.
Many studies show that Asian indigenous peoples/ethnic minorities belong to the poor and extremely poor strata; most live in an increasingly degraded socio-ecological environment. (Asian Bank Development / TAR: OTH 33527). Below, we mention some of the cultural, social, economic and political problems faced by the Papuans.
In Indonesia there is no specific government agency primarily dealing with indigenous peoples/ethnic minority issues.
3.1 Lack of Organisational Capacity
Indigenous peoples often lack the information, knowledge, analytical and organisational
                           capacities, and political channels and power to influence and direct development processes that directly or indirectly affect
                           their lives.  Although tribal chiefs, NGO-activists, youth/students and women
                           leaders have genuine goodwill to support development programs, often they lack the tools, skills, resources, conceptual understanding,
                           or organisational capacity to respond adequately to the needs of indigenous peoples.
The democratisation process in Indonesia, special autonomy in Papua, the division of Papua into three provinces and the participation of an empowered society have raised serious challenges. However a – significant lack of capacity – exists in the Civil Society Organisations (CSOs), especially Non Government Organisations (NGOs) and POs (People's Organisations). Almost all levels and all types of Civil Society Organisations (CSO) have – significant weaknesses in organisational and institutional capacities. On the whole, efforts to build the capacity of CSOs are dependent on external agents, although this might be seen as an investment in generating self-support development towards sustainability.
Assessments by YPPWI, 2001 in Jayapura, 'Daftar LSM yang berkiprah di Papua', REMDEC, 2003 in Jakarta, 'ToR CB Program of Papua', Jaap Timmer and Linda Farid, 2001, 'Report of an Identification Mission for NOVIB', and 'field observations' by various local NGO-activists have recognised the necessity for organisational and institutional capacity building. Establishing well-functioning capacity-building institutions within Papua is to ensure that the effort to strengthen civil society organisations will be sustainable, easily accessible, more cost efficient and effective, and able to provide appropriate responses to the challenges that lie ahead for Papua.
Skilled NGOs or POs activists are hard to find locally. The few that have organisational
                           capacity are mostly concentrated in and around Papua's capital, Jayapura. Senior activists have left NGO and PO-jobs
                           for new jobs in private (companies) or public sector (governmental institutions) with a permanent, higher salary and permanent
                           social guarantees. This situation creates – crises in the NGO and PO-work in
                           Papua. Activists are
                           too thinly spread and are overloaded with the multitude of problems in Papua.
◙ Training in Organisational Capacity is the alternative solution to empower the Tribal Chiefs, NGOs/POs, Students/Youth and Women.
3.2 Centralized Community Development
Most NGOs in Papua are located in the provincial capital, Numbay and have no branches in other regencies. Community development therefore is centralized and does not have an even impact throughout Papua. Monitoring the development of projects in the remote regions is not efficient because most of semi capable NGOs are based in Jayapura.
◙ Decentralization of NGOs is the alternative solution.
3.3 Identity Crisis
The total population of Papua is estimated at 2,4 million. There is no official figure for the Papuan indigenous population but John Ibo, the chairman of the provincial legislative assembly, insisted in his speech during the first congress of the Papuan Tribal Council in 2003 that the number of indigenous Papuans is lower than the number of Indonesian migrants.
The migrants dominate Papuans in almost every layer of society: politically, economically, socially and culturally. Indirect cultural genocide is taking place in which indigenous languages and traditions become endangered. Indonesian is now the daily medium of communication among the children. This group has been copying foreign cultures and consider their own traditions as backward. Oppression by foreign powers such as Japanese (1940s), Dutch (before and after '40s) and the Indonesians, whose rule has been rife with human rights abuse (killings, torture, intimidation, rapes) has brought the Papuans an inferiority complex.
◙ Enhancing the position of indigenous people to gain self-confidence by economic, social and cultural empowering is the alternative solution.
3.4 Ethnic Conflict
Education is not Indonesia's top priority, and it is certainly not given any priority in Papua. Papua has long been the neglected province of Indonesia and still is one of the most underdeveloped provinces of Indonesia. The level of human resources is therefore stunningly low.
Though its natural resources are enormous, the Papuan people hardly benefit from these revenues. The bulk of the profits are siphoned off to Jakarta. The quality of education in Papua is poor. As from 1 January 2002, Papua was given a special autonomy status (Otsus), which should promote human resource development for the indigenous Papuans. However, past experience has shown that the Indonesian government does not follow up on such promises, consequently the people are wary of these new government plans.
Although there are schools in Papua (elementary, secondary and vocational studies), they almost all lack good teachers and the financial means to buy the necessary books and other learning materials. Consequently, the level of knowledge of children who have completed elementary and secondary schools is very low. Since most parents have no money to sustain their children's education, the number of dropouts is increasing at a worrying speed. At primary school level for example, many children (especially in villages/kampongs) do not attend school. Moreover, teachers are often not skilled and poorly motivated for a number of reasons, one of them being the suspension of salary or not being paid at all (and as a consequence take on different work and do not show up in class).
The table below shows the indicators presented by the Provincial Statistic Department in Jayapura based on its direct field study[6].
EDUCATION

NUMBER (PEOPLE)

%

1. Never attend school

2. Not completed Elementary School

3. Elementary School

4. General Junior High School

5. Junior Vocational High School

6. General Senior High School

7. Vocation Senior High School

8. University Graduates

307,395

143,571

300,156

107,904

9,180

61,620

51,585

13,803

31

14

30

11

1

6

5

1

995,214

100
As a result, unemployment among the indigenous Papuans is growing, Indonesian migrants are dominating the job market and young Papuans often feel discriminated against (which is true, but can also be explained partly by the low level of education). The number of school-aged children who do not attend school has increased.
In Papua in general, human resources development is absolutely imperative. Although the prospects of Otonomi Khusus (special autonomy) are promising, the aspects of human resource development are not explained in detail in the autonomy package and whether it will actually be implemented by the government remains to be seen.
◙ Vocational trainings must be given to generate self-employment of the indigenous Papuans.
There seems to be more space for democratic process in Indonesia, since the fall of the Indonesian dictator, Soeharto (a retired general), in 1998. Unfortunately, Papua and Aceh as the richest provinces have the toughest road ahead... Annual reports by Amnesty International, Human Rights Watch, State Department of United States, UN High Commissioner for Human Rights, UN Office for the Co-ordination of Humanitarian Affairs (OCHA) and other HR bodies have regularly revealed gross human rights abuse in Papua.
Most of the Human Rights NGOs are based in Numbay and do not have strong branches in other towns and districts. This is due to lack of organisational capacity in running offices and programs in other regions.
◙ Strengthening the communities to defend and promote basic human rights internally and externally.
In the Asia-Pacific region, poverty has a woman's face. Two thirds of the world's poor live in this region, the majority of whom are women. In many societies, women are denied access to basic services and essential assets such as land, and excluded from decision-making.[7]
The Asian Development Bank, Indonesian Human Rights Commission on Women and other regional institutions have action plans on gender but Papua remains out of touch. There are Municipal Sub-Departments on Women's Empowerment in Papua that have allocation of budgets but unfortunately without effective action plans.
3.9

Destruction of Natural Resources
While the government of Indonesia does not seem seriously interested in developing education, health care, agriculture, infrastructure and tourism in Papua, it does back mining, logging and fishing companies which operate in Papua and exploit its natural resources. It is not uncommon for military officers and governmental officials to have stocks or shares in those companies. There is no good administration/law to resolve conflicts and protect natural resources from further destruction. Land or areas owned by the indigenous people for traditional agriculture, fishing and hunting have been constitutionally claimed as state property by the government. Various reports by different NGOs have repeatedly revealed the destruction of natural resources by mining, logging and fishing companies (as reported by Down to Earth, Friends of the Earth, etc.).
Fishermen are increasingly using cyanide and bombs (on a daily basis!) to get a large catch, at the same time destroying large coral reefs and the underwater habitat. This ongoing destruction means endangering the very existence of the people.
Destruction of natural resources is also partly caused by the illegal dumping of waste by companies and communities themselves but also by the state's environmental mismanagement.
There is a lack of capacity and knowledge to operate strong NGOs which can organise campaigns and lobbying activities against the destruction of natural resources.
◙ Influencing governments, companies and communities to avoid the destruction of natural resources or their over-exploitation.
3.10
HIV/AIDS
The number of people living with HIV/AIDS in Papua province has now reached 1,398. Of the total, 912 people have been diagnosed HIV-positive and 486 have developed AIDS. The disease has killed 172 people in Papua since it was first detected in the province in 1992. The number of people who have contracted the disease could be much higher (10 times the current figure). If the estimated figure -- 1/17 of the 2.4 million Papuan population – is correct, it means that Papua is overrun by the disease. Merauke regency has the greatest number of HIV/AIDS cases at 561, followed by Timika regency with 514 cases and Jayapura regency with 101 cases. The spread of HIV/AIDS in remote areas was mostly caused by lack of education amongst villagers. (Source: · Jakarta Post, Apr 13, 2004 quoted by WHO).[8]
     

An African-style AIDS epidemic in Papua is not outside the bounds
                           of probability. It is alarming that Papua has reached the top ranking of HIV/AIDS epidemic in 

Indonesia

. There have been more than 1000 cases
                           of HIV infection reported in the province by Unicef, and the reported prevalence of AIDS is almost 30 times the national average.
                           Dr. Gunawan, an expert with many years experience in the health ministry in Papua and now responsible for the Stop AIDS Action
                           program, fears that as many as 5 percent of the total population may already be infected. This matches the level found in
                           many countries in sub-Saharan 

Africa

.
There are cases of families quickly removing
                           patients from hospital and then abandoning them to die. There is a growing call for quarantining PLHAs (People Living with
                           HIV/AIDs), even though this has been proved counter-productive, and clearly violates human rights. Sadly, PLHAs have been
                           discriminated against and become isolated by many people, except close relatives.
◙ NGOs with capacity are needed to work on this deadly epidemic.
3.11
Mortality
Unicef revealed that the condition of Papuan children is included in the "20 poorest countries" along with Somalia, Angola, Sudan, and Afghanistan. Major factor as quoted by local newspaper Cenderawasih Pos, 20 August 2003, is the absence of doctors in the health centres.
A survey in 2001 made by doctor Melania Hidayat from the Indonesian Health Department revealed that the death rate of 832 per 100.000 birth was caused by 25,6% haemorrhaging; 16,6% toxaemia gravid arum; 12,5% infection [See Cenderawasih Pos 24 May 2003].
◙ Empowering tribal medicine man and women to develop traditional health services to the communities in the remote regions to avoid or reduce mortality.
3.12
Domination of Economy
Distribution of commodities is strongly dominated by the migrant entrepreneurs. For example, the distribution of food and petroleum for cooking that are under the administration of the state companies such as Dolog (for food) and Pertamina (for oil & gas). Big entrepreneurs from Chinese descent dominate the private sector. Medium-sized and small-sized business such as small restaurants, permanent food stalls and itinerant food stalls are in the hands of the migrant grocers and retailers from Indonesia. Big entrepreneurs of Chinese descent and the Indonesian migrants from the Bugis ethnic group have a well-organised network in which they dominate the distribution of commodities. Besides, an unwritten system facilitates migrant entrepreneurs to get accreditation from Dolog and Pertamina to become distributors and to get large amount of loans as start-up capital from the banks. Such procedures create an unhealthy competition between indigenous and non-indigenous entrepreneurs. This situation results in a loss of control over pricing because the big entrepreneurs make their own decisions exclusively on price levels.
Indigenous Papuans who would like to be merchant cannot compete because of various obstacles such as unavailability of fund and lack of knowledge in business skills.
◙ Defending the rights of indigenous people and providing trainings in Business Skills are needed to empower the Papuans to compete.
Good Governance is a major problem in
Indonesia
.
Indonesia
is the third most corrupt country in
Asia
and eleventh in the world ranking. Indigenous communities are suffering as a result of corruption, collusion and nepotism practices.
◙
Tribal Chiefs, NGOs/POs, Students/Youth and Women's Groups need skills to influence the policy makers.
---